BaseSpace Correlation Engine (formerly NextBio Research) applications support early-stage research to identify mechanisms of disease, drug targets, and prognostic or predictive biomarkers. Explore the continually growing library of curated genomic data. The easy-to-use, web-based tools mine this data and create billions of novel correlations. The full Professional version of BaseSpace Correlation Engine offers a complete solution for data storage, analysis, and integration.
Gene Function Studies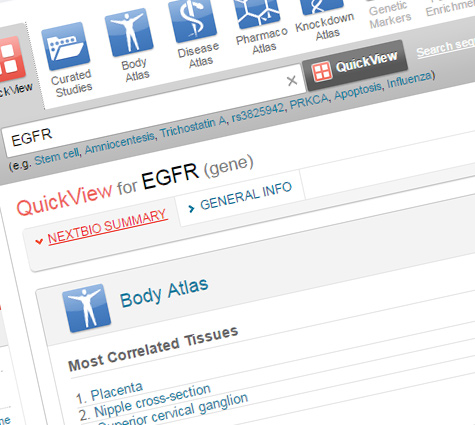 Analyze gene function across genomic studies in major disease areas and across many kinds of molecular data.
Use this information to understand gene activity across studies in humans, model organisms, and cell lines.
Drug and Disease Mechanisms
Analyze candidate molecules for pharmacokinetic and toxicity profiles.
Compare disease profiles across animal models, cohorts, and disease stages.
Cross-Species Analysis
Optimize experimental systems and test the mechanisms of disease progression or drug response using a cross-species analysis framework.
Compare human data to experimental results from model organisms to derive biological context.