Research Impact: Bibliometrics
Analytic Bibliometrics at Pitt
Bibliometrics is the quantitative citation analysis of journals, books and other communications in print or online, using mathematical and statistical methods to analyze and visualize complex metrics. Use bibliometrics to support your presentations or positions, to compare current standings to the past or to similar entities, or for strategic planning. Pitt now has two advanced bibliometric tools for your use: Web of Science Essential Science Indicators and Elsevier's SciVal.
At HSLS, contact Stephen Gabrielson for assistance with these tools.
At the University Library System (ULS), visit the ULS Bibliometric Indicators Guide.
Web of Science Essential Science Indicators (ESI)
Essential Science Indicators allows authors and institutions to quickly perform citation analysis using three measures: Indicators, Field Baselines, and Citation Thresholds. Find out if you
have publications in "Top Papers" ( top 1% of papers for the past ten years.)?
have publications in the top 10%? 25%? .01? And for which year(s) (2004- now)?
are in the top 1% of authors and institutions and the top x% of countries and journals in a 10-year period
Promote yourself with ESI Indicators
With Essential Science Indicators - Field Baselines, you can now add statements to CVs, biosketches and applications like "75% of my publications are in the top 10% of Clinical Medicine publications, according to Web of Science Essential Science Indicators."
Field Baselines are annualized expected citation rates for papers in a research field. Find your number of citations in the table within your field for a particular year, then on the left find the citation rate percentile.
Essential Science Indicators: Introduction (4:10)
SciVal from Elsevier
---
Use SciVal to analyze and produce high-level overviews of the scholarly landscape; to compare or benchmark regional, institutional, departmental or individual strengths around the world, to identify opportunities for collaboration, and to spot global trends to support strategic planning. SciVal uses current Scopus data for creating transparent reports for everyone. Login to your personal Elsevier account to get started.
SciVal Publication Statistics
Demonstrate quality of publications using comparisons over time.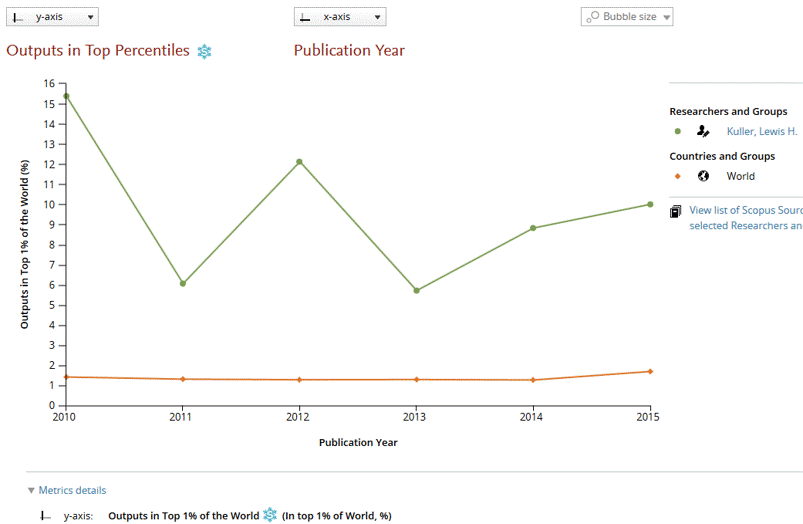 Contact
Stephen Gabrielson, MSLIS
Health Sciences Library System
University of Pittsburgh
sgabrielson@pitt.edu
412-648-9757